IT GLUE USERS understand the value of DOCUMENTATION.
If you've already purchased or you are considering purchasing IT Glue, then you already understand the value that proper documentation brings to your MSP practice. Now, it's time to take it to the next level.
Liongard's Roar platform automatically remotes into systems to document configurations, and derives actionable alerts so your team doesn't have to. With automated and up-to-date documentation, you can strengthen the processes that grow your MSP. Spend less time on manual tasks, and more time providing value to your customers. Where the RMM stops, Roar begins. Check out the brief clip below to learn more!
ROAR LIVE-TABLES IN IT GLUE
Like most MSPs, you've spent a fair amount of time maintaining system details in IT Glue. Roar can make it much better! By automating the updates of system configurations with Live-Tables, you can rely on that data being rich and continuously up-to-date. Keep the content you've created in IT Glue, and let Roar handle the rest!
IT Glue can sync with ConnectWise Manage configurations updated by Roar via the native integration - landing in your PSA is an ITIL best practice too!

Roar creates a set of IT Glue Flexible Assets that are automatically updated. You can then relate these Assets to your current documentation.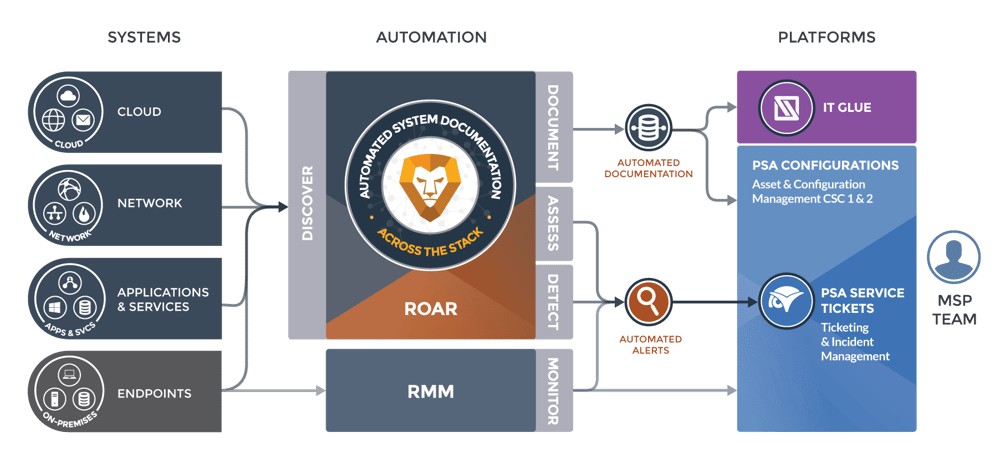 Connectwise Integration

Roar's Actionable Alerts land as ConnectWise Manage tickets and your Service Desk can review the associated Configuration Item for the latest documentation from Roar. From there, they can click over to Roar for deeper details, and look back in time to review changes.
PURPOSE-BUILT FOR MSPS
PSA INTEGRATION
PAY-AS-YOU-GROW
UNLIMITED USER LICENSES
UNLIMITED CLIENT ACCESS
MULTI-TENANT DASHBOARD
PRIVATE AWS DEPLOYMENT
ROAR ALONG YOUR Entrepreneurial Journey
Roar enables MSP partners to scale by eliminating the manual effort that your teams need to do in order keep documentation up-to-date. Roar also pushes data directly into IT Glue (and ConnectWise Manage) - which means no more time wasted on filling out manual forms.
Answers you need, now.
MSP teams can depend on rich, automated, up-to-date, and trustworthy system configurations
to quickly resolve issues and confidently answer questions.
SPUR VALUABLE ACTIONS.
Consistent and accurate data across a wide breadth of systems, paired with meaningful rules, lets MSPs stay on top of issues and changes before they become problems.
DRIVE PROFITABILITY.
Streamlined processes require having data at your fingertips. Teams can avoid needless remote access, privileged credentials, and escalations that chip away profit.